Create a Sanctuary: How to Make a Bedroom in a Studio Apartment or Loft
When you live in a studio or loft apartment, your space becomes an all-in-one area including the kitchen, living space, office corner, and bedroom. If you're new to renting one of these open-concept apartments, it can seem overwhelming. How can you create a sleep sanctuary in the place where you spend most of your day in? Whether you're renting a studio in Seattle, WA, or a loft in New York, NY, there are plenty of ways to make a cozy bedroom in your place.
To help you get started, we've reached out to experts for their best advice on how to make a bedroom in a studio apartment or loft. From scents that promote sleep to storage solutions, here's how you can create your own sanctuary.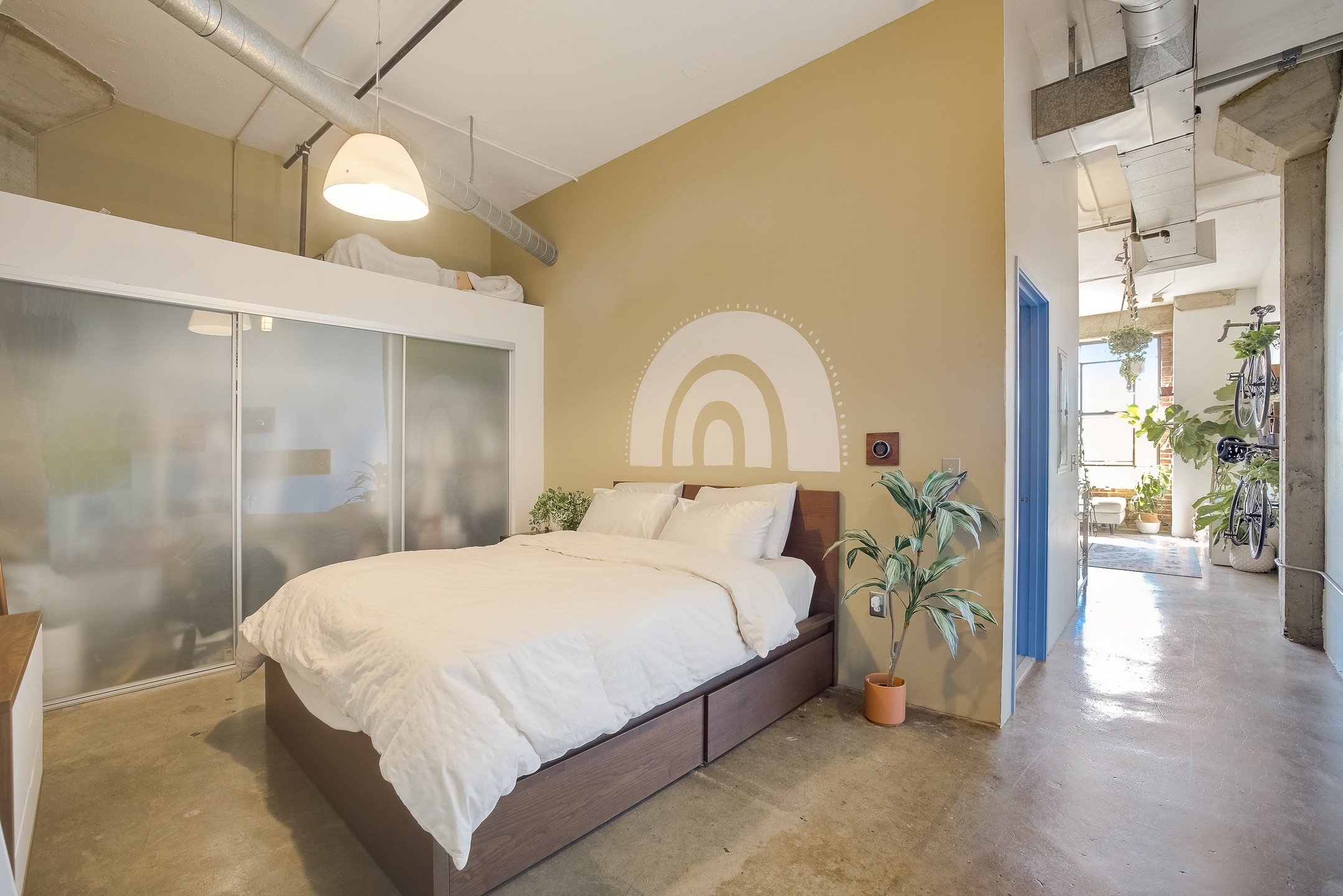 Define what "sanctuary" means for your space
Your sanctuary – what does that mean? We believe it should be the space in your home that you find most connected to – this space can change the way you feel. If that space is your bedroom, it's calming, it stimulates relaxation for both body and mind, reconnects you to holistic energy and abundant memories. We believe everyone deserves a great candle. Light them after you kick those shoes off, before a shower, after a day of cleaning, or when you're expecting family and friends to visit. Your sense of smell is powerful. Say goodbye to old age scents and hello to our Black Vinyasa candle, our exemplary blend of tangerine, daisies, patchouli, ginger, ylang-ylang, amber, palo santo, and musk. A studio sanctuary is a whole different level of comfort and peace with the right scents. – Cheyenne Payne, Misty Dawn Candle Company
The right scents help create your sanctuary
Fragrance is single-handedly one of the best ways to give your space its own identity by being an extension of you. Fragrances that are great for creating a peaceful and restful environment typically tend to be earthier scents. Think lavender, sandalwood, rose, bergamot, and sage. These fragrances are known to promote positive relaxing atmospheres. Remember to always burn your candle for at least 4 hours for the very first time, always trim your wick to 1/4th of an inch before every burn, and flip your reeds daily for your reed diffusers to keep your fragrances flowing. – Jamahl A. Grace, Grace+Love Candle Co.
Candles or reed diffusers create the vibe of your studio
A personally curated set of signature scented candles is like a playlist for the air in your space. cedar and lavender can help invite calm in the bedroom, light a Palo Santo candle for a sophisticated living scent, use Sequoia Jasmine for a spa-like bath, and enjoy Tomato Leaf in the kitchen. The warm flicker of candlelight adds another dimension of light and warmth to the scent, but if you need scent without a flame, try a reed diffuser, and invert the reeds anytime you wish for an instant aromatherapy boost. – Edgewater Candles
Incorporate items that help you relax
Defining your space is extremely important when working with small quarters. A weighted blanket is a great tool to help promote a relaxing space, giving your bedroom a different feel from the rest of your studio. It's the perfect way to get big comfort in a small space. – Tuc Blanket
These three tips will help make a bedroom in a studio
Create a bigger space by using a wall bed or secret storage
Use a platform bed with storage
Install glass partitions
Don't overlook the impact of a room divider
Room dividers are an excellent way to create distinct spaces for living and sleeping in a small apartment or a backdrop for a video call. Look for a double-sided design so that you get a beautiful view from either space. Foldable screens are especially useful because you can easily close and store them when not in use. – Oriental Furniture
Bookshelves can be a great way to divide spaces
Bookshelves are a functional division of space, especially in a studio apartment. The height allows you to take advantage of vertical space, which is so valuable. The shelves are useful for extra storage of personal items or an opportunity to add your personality with accessories. There are some really cool designs and finishes available for added interest. – Gina V. Roth, Abode Interior Design
When working with a small space, create clear zones
To create a bedroom, I like to start by painting (or wallpapering) the corner of the room where the bed will go to separate it from the rest of the space. Use soft tones to make this corner calm and bed ready. If you want extra privacy, an easy trick is to add a partition wall using either shelving or slats. I love a slat wall because they are easy to make and let the light through so the bedroom corner doesn't feel too claustrophobic. Finally, I would add lots of personal touches like house plants, incense burners, cushions, and blankets to make this corner of my home extra cozy. – Melodie Telliez, A Softer Edge
Divide your space to have a cozy corner
If you live in a large loft or studio, my recommendation is to slightly divide the space and create a cozy corner for night time. An easy way to do this is to install a see-through shelving unit and put decorative objects that you can enjoy from both sides. This is a quick and elegant way to create a cozy apartment and adds a feeling of privacy to the sleeping area. When working in smaller studios, it's crucial to be ingenious and favor multi-functionality. A good idea is to consider the bed as a sofa during the daytime. I put multiple layers of pillows to reduce its depth and put a chest as a coffee table in front of it. At night, all the pillows go into the chest and the bed is ready for a great night's sleep. – Nadine Teboul, The French Apartment Gallery
Scents create a cozy bedroom and apartment
In the home, candles help to create a warm and cozy atmosphere. Lavender and chamomile scents, alone or together, are great scents for promoting restfulness and relaxation. These calming and soothing scents bring about a sense of peace and tranquility which is perfect for winding down. – Ms. Tachelle Nettles Owner/Chandler of Inhale by Chelle Candles
Lavender is always a great scent for sleep
Lavender is a scent that is known to promote relaxation. It creates a calm atmosphere and can help you relax your body, mind, and soul. Light our Lavender Vanilla Soy Candle or diffuse our 100% Pure Lavender Essential Oil to create a relaxing environment in your home. – Clarri Hill
Embrace peppermint and eucalyptus after a long day
The peppermint and eucalyptus-scented candles can help relieve stress, anxiety, or any hard day that's been bothering you. The candle is mixed with this miracle plant to provide an instant mood boost when entering your home – it'll clear up your chaos in no time. So go to bed, relax, light a candle and write in a journal. This scent will bring you back to memories and remind you of a good day. To elevate your mood further, consider adding crystals like Green Aventurine and Sunstone to your candle. The green stone provides you energy to remain calm while balancing your emotions, and the Sunstone brings you good nature and will heighten your intuition. It helps your real self to shine through and help fears, anxieties, and stress. – ENDORA Candles
Style your bed to complement your small studio
In small spaces, such as studio apartments and tiny homes, bed linens make a big impact. Selecting a couple of lightweight, yet cuddly layers will provide great functionality for changing seasons, and make a great looking bed, which is often always on display. Select a neutral coverlet for the first layer which is comfy for sleeping and easy to keep tidy. Then select a second layer that has a bit more drama for your second layer. This can be folded neatly across the foot, used as a throw for those weekend binge-watching sessions, and pulled up on cool nights. Add a single statement accent pillow to finish the look without creating clutter. – Amity Home
Use items that serve multiple purposes
When creating the perfect bedroom space in an open-concept room such as a loft or studio, we recommend starting with a multi-functional bed frame. Choose a bed frame that does double or even triple duty with underneath storage drawers, a built-in shelf headboard, and an embedded light fixture. This eliminates the need for extra bedroom furniture that takes up extra space, keeping true to the open space plan and combining function and design to make your bed your new favorite part of the room. – Becky Brown, Domestications Bedding
Going vertical is always a great option when making a bedroom in a studio
When you don't have much room to work with, you'll need to make the most of your vertical space. Instead of adding nightstands next to your bed, which would take some of the much-needed floor space, consider adding floating shelves to the sides of the bed to store your essentials. You can even get creative with the design, and add multiple shelves in an interesting pattern to create a focal point that will draw eyes away from the bed itself. – Georgie Mihaila, Editor, Fancy Pants Homes
Everything comes down to the details
We're strong believers in the idea that a home is made in the details. It's the little things, like candles, that can make a big impact on the overall feeling of a space. Of course in the evening, you want to create a cozy, relaxing environment in your home that encourages you to power down and let go of all the tension from the day. A lavender-forward scent, like Siblings No 05, is a go-to scent that can help set a calming mood. Or something very comforting scent like our coconut-fig scent No 09, is a perfect way to soothe the senses while you're getting ready to sleep. – Eva Eckerblad & David Bronkie, Siblings Co
Make choices to give you more space
When creating a bedroom in a smaller space like a studio apartment, you might find that you don't have the space for a regular bed frame and headboard. Using a platform frame will not only give you additional storage space underneath but allows you to get creative at the head of the bed. In place of a headboard, try painting an arch, installing wall sconces, or hanging wood panels to give the impression of a headboard without wasting any space. – Maggie Antalek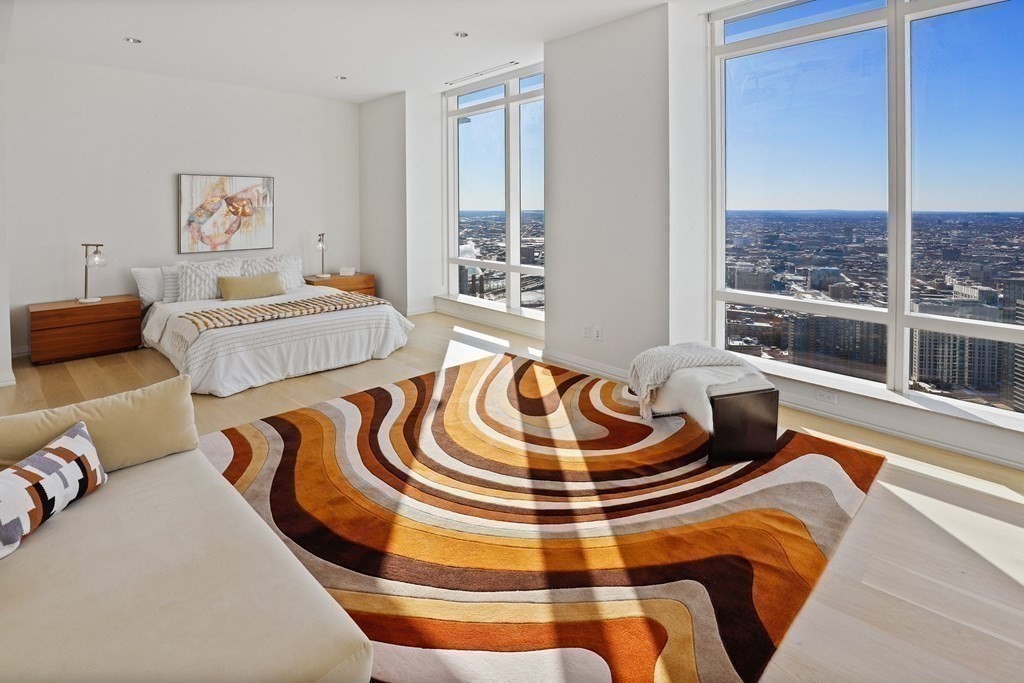 Embrace the open concept layout, but make it work for your needs
The ideal way to work with a studio apartment is to celebrate the open-concept, but still find ways to make spaces within the home feel separated. Use built-ins to separate spaces. You can use a large bookshelf to function as a wall, and on one side could be your sleeping area/bed, and the other could then be the rest of the home. Or if you really commit yourself, the built-ins could be continued on the other side to make a seating area that functions as your dining or breakfast nook. To top it off, adding lighting over a table allows enough more of a distinguished space within the studio.. – Hayley Francis, Neon Doves
Create compact luxury
Smaller open plan spaces offer the opportunity to create a luxury-inspired 'suite' similar to a 5-star hotel. Sleeping and other function zones don't necessarily need to be strictly divided but rather composed as a harmonized assembly for personal use and enjoyment. Employ designer style drama to best effect with one carefully selected oversize piece of furniture or art as a focal point or backdrop. Avoid high wattage floor lamps that flood the entire space with light all at once. Place dimmable reading lamps or sconces strategically to cast pools of light that highlight furniture, art, and accessories. – Joseph Szymczak, SLATEspaces
Enjoy the calming smells before bedtime
The best time to use scented candles or diffusers is right before you get into bed. This gives you time to enjoy the scent and relax before turning out the lights. If you're looking for ways to make your bedroom cozier, adding a scent is a great option. Just be sure to choose a calming scent and candle that you can enjoy right before bed. This will help you create a relaxing atmosphere that promotes restful sleep. – Candle Crowd
Choose scents that are subtle and help you relax
Choosing the right candle scent to relax in your apartment is essential and can help stimulate your mental health. When choosing a scent to relax, it's best to choose subtle and gentle aromas. Powerful scented candles might cause you migraines and defeat the purpose of tranquility. Choosing a candle scent is like choosing which clothes you want to wear for the day. Light a candle and set your tone for the day. – Mother & Mai Candles
Remind yourself of calming times
Scented candles help stimulate the part of our brain that's responsible for memory and emotions, so choosing scents that remind you of times you felt calm can help you create a relaxing apartment environment. Most people choose to light candles at night but they're just as beneficial in the daytime, and can contribute to a space that promotes clarity (especially good for people who work from home.) Some of the more popular scents that promote restfulness include those with notes of eucalyptus, lavender, and sandalwood. The key to creating a perfect burn with these candles is trimming the wicks before each burn and letting them from full melt pools before putting out the flames. – Seventh Avenue Candles
First consider the space you will use the candle or diffuser
Determining the space will help identify what fragrance will best suit the space. More indulgent or complex scents are used in the kitchen while clean aromatic relaxing fragrances are used in bedrooms and bathrooms. Second, determine your scent category. Fresh has smooth, soothing, clean, uplifting, and relaxing notes. Great for your bedrooms, bathrooms, or a space where you relax. The fresh scent category helps you get to sleep at night or alleviate stress. – Lori Jamison, Owner of Heaven Scent Soy Candles
Consider a weighted blanket to signal that it's bedtime
It can be hard to escape the 'eat, play, sleep, repeat cycle' in a small space because every distraction is within arm's reach 24/7. However, training your brain to recognize that it's bedtime can be as simple as adding a weighted blanket to your nighttime routine. Using deep pressure stimulation to activate the parasympathetic nervous system, weighted blankets can lower your heart rate and blood pressure, increase the feelings of relaxation and trigger a sleepy feeling. While a better night's sleep is the goal, in a studio apartment every choice matters. Grabbing the biggest weighted blanket you can find isn't a good use of your space. Instead, select a weighted blanket that is heavy enough to do the job but thin and small enough that it doesn't get in the way. – Hippo Hug Weighted Blankets
Create a cozy space in your loft bedroom by using pattern, texture, and color
Create a mural behind your bed, defining the space and creating a whimsical or happy focal point. I love incorporating fiber art, a weaving, or even a quilt to create a soft, sound-catching piece over your headboard near your bed. Make your sleeping area a sanctuary by surrounding yourself with your own preferred soothing colors. For some people, this is a palette of colorful items, for others it is a single color with a combination of saturated and pastel hues. Use a painted side table and bedding of the same color to unite the space. Low contrast rooms create a soothing atmosphere and can speed the onset of sleep. – Kirsten Conner, Kirsten Conner Interior Design
Fragrances are an essential way to create ambiance in the home
How do you choose the right fragrance to promote restfulness in your space? Well, everyone is crazy about scented candles and for a good reason. Scented candles not only make beautiful décor pieces, but they bring soft light and warmth to a space while permeating the perfect fragrance. When it comes to fragrances, you want to look for scents that are calming and promote relaxation. Scents like rose and jasmine are very soothing and promote relaxation. Cedarwood cleanses the air and aids stress. Eucalyptus is a scent used widely in spas because it de-stresses and helps you breathe easier. If you're looking to improve your sleep, herbal scents like lavender and chamomile are perfect for that. – Cedar Mountain Candle
Originally published by Redfin author Alison Bentley on June 17, 2022.
Recent Posts
We enjoy the holidays in all their hectic glory, and find peace, love, and magic in sharing time a

When you live in a studio or loft apartment, your space becomes an all-in-one area including the ki

Winter is here for the next few months, along with snow, ice, and a penetrating cold that makes you