---
An affiliate earns a commission for marketing and selling Tuc Blankets. The sales are tracked by a personal affiliate link. All Affiliates must be located in the United States of America.
Make sure to read the terms of service in full before submitting your application. The Tuc Team will review your application and will inform you of the results in 2-4 business days. Click here to go to our sign-up form.
Affiliatly is the third party service that we use to manage our affiliate program. They are a tracking service that allows us to track and manage commissions and also pay our affiliates. You are logging into Affiliatly when you are logging into our affiliate program panel.
What are affiliate links?
When you get approved, you will have access to our affiliate panel. This panel will give your personal affiliate link that you can use to track any purchases. You can list this link on any of your websites or social media pages. When a customer clicks your affiliate link, a cookie tracks the customer's activity on the Tuc Blanket website for 30 days. If the customer purchases a blanket in those 30 days of clicking your link, you will receive a percentage of their order.
How do you use the affiliate links?
You can find your personal affiliate link in the Affiliate Panel. Click here to log in to your Affiliate Panel. When logged in, click the "Info" tab. This is where you will find your personal affiliate link. If you would like to generate an affiliate link for a different Tuc Blanket webpage, (e.g., a product page - tucblanket.com/tucwarm), you can click the "Link Generator" tab. Put in the desired Tuc Blanket lading page and the generator will create a custom affiliate link that will still track any purchases from TucBlanket.com.
It is important to note, when listing your affiliate links, they must adhere to the FTC's guidelines of disclosures and endorsements. For details visit the FTC's Disclosures 101 for Social Media Influencers.
https://www.ftc.gov/tips-advice/business-center/guidance/disclosures-101-social-media-influencers
http://ftc.gov/os/2009/10/091005revisedendorsementguides.pdf
What is the cookie duration?
Our cookie duration is 30 days. When a potential customer clicks on your affiliate link, a browser cookie tracks the users activity to see if they purchase a blanket. The cookie duration is the amount of time that the browser cookie remains active on the users browser.
What is the commission percentage?
Our commissions are tier based.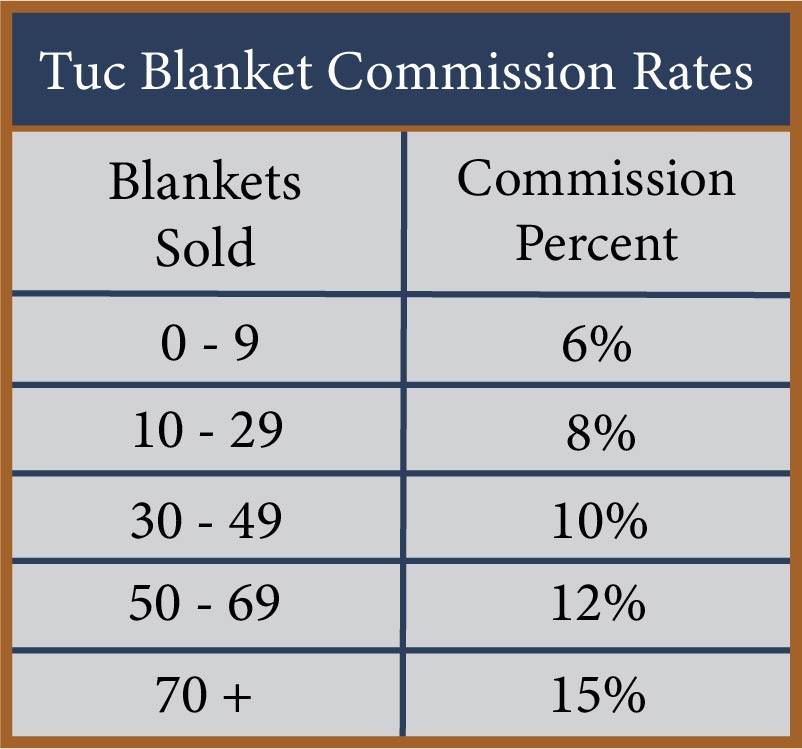 How do affiliates get paid?
All affiliate are paid through PayPal. Payments occur on the 3rd day of every month (or the next business day if the 3rd is a holiday or weekend).
Where are the Brand Assets (Tuc Blanket Logos)?
All brand assets can be found here. Feel free to use the assets in your social media posts or on your website. The "Affiliate Brand Resource Pamphlet" is a useful tool in learning about the Tuc Weighted Blanket and how these assets can be used. Contact us if there are any other assets you would like access to.
In your affiliate panel, you can click the "Banners" tab to access the available banners. These banners are HTML code that can be implemented on your website, blog or anywhere else that can use HTML code. Please note: Banners are not images and can not be uploaded to social media platforms. For images, please see our brand assets.
What happens if a referred customer returns their order?
We have a 30-day return policy. If a referred customer returns their order, this commission will be subtracted from your pay out.
Why can I not say "Insomnia" or "Anxiety" in my posts?
The FDA (Food and Drug Administration) has laws in place to make sure that products claiming to be a medical device adhere to set specifications. Since the Tuc Blanket is not a medical device, it is very important that you do not say anything that could imply that the Tuc Blanket is a medical device.
Unacceptable: Mentioning any diagnoseable condition (e.g., ADD, ADHD, Anxiety, Autism Depression, Diseases, Disorders, Insomnia, PTSD, Syndromes, etc.) or physiological responses (e.g., stress, blood pressure, heart rate, hormones, etc.) and connecting them to the blanket or the blanket's effects.
Acceptable: General statements about the blankets features (e.g., the core sheet technology, breathability, even weight distribution, etc.) or the blankets' effects (e.g., comfort, feelings movement, relaxation, sleep, etc.)